Middle School Career Day 2019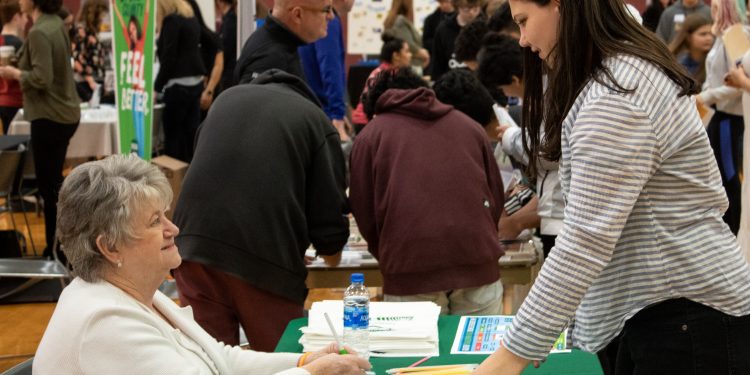 On April 17, 800 8th graders from the Springfield School District joined the Springfield Chamber for Middle School Career Day. Middle School can often be the time where organizations have the most influence in shaping a student's future career choices. Local businesses and Career Technical Education (CTE) courses from Springfield high schools are invited share information that impacts these 8th graders choice of high school pathway, secondary education and training, and career choice.
Thirty-four businesses and CTE courses shared information with students during this year's Middle School Career Day, and over 30 mock interviewers volunteered to interview every 8th grade student who attended. These interviews help prepare students for future employment opportunities, and offer them the experience of speaking with community and business leaders outside their normal communication with parents and teachers.
"This was a great learning opportunity."
WorkReady programs are an opportunity for students to meet with respected and experienced members of the Springfield/Eugene community. These businesses and community leaders have extensive experience, knowledge, and expertise. They are willing to invest their time in student success, simply because they know the choices students make today, will lead to educational opportunities, good paying jobs, and exciting careers. "This was a great learning opportunity," said one Briggs Middle School student.
Thank you to Nova Health for sponsoring this year's Middle School Career Day, to our partners at the City of Springfield and Springfield Public Schools, and to our WorkReady Impact Investors who support the development of these programs;
PeaceHealth
Guistina Resources
KEZI Skilled to Work
Lane Community College
Leahy Cox
Murphy Company
Royal Caribbean International
Purakal Cylinders
Chambers Construction
Priority One Heating and Air Conditioning
Columbia Bank