PeaceHealth Rides celebrates "May is Bike Month" with free memberships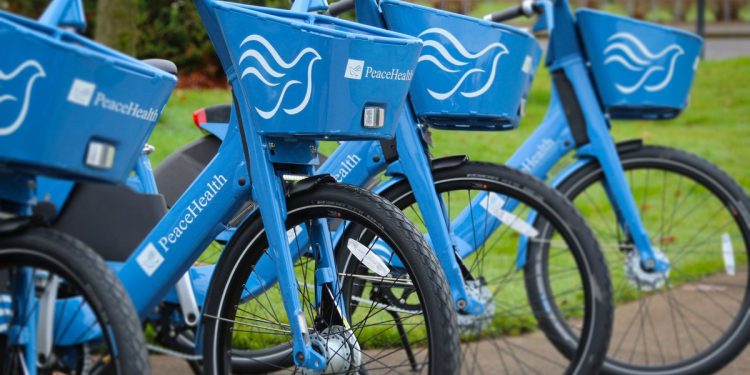 Submitted by Lindsey Hayward, PeaceHealth
Eugene, OR –May is Bike Month, and PeaceHealth Rides is celebrating by offering free memberships to Eugene's bike share system for the month of May.
"It's a way to encourage newcomers to hop on a PeaceHealth Rides bike for the first time and to thank members who've made PeaceHealth Rides' first year such an amazing success," said Lindsey Hayward, general manager of PeaceHealth Rides.
Also in May, PeaceHealth Rides will lead free group rides and bicycle safety sessions for adults who are new to cycling, or new to bike share.
These offerings are part of a broader community-wide celebration of national "May is Bike Month." Each May since 2014, the Eugene-Springfield area has observed this special month, showcasing the environmental and physical benefits of biking while encouraging more community members to use active transportation.
For a list of dozens of free cycling-related events in May, visit WeBikeLane.org
To receive a free May PeaceHealth Rides membership, new users create an account at peacehealthrides.com or use the PeaceHealth Rides app. New and existing users can claim their free month by entering the promo code BikeMonth19. A $15 credit will be added to their monthly account. University of Oregon students already qualify for a discounted monthly rate. To claim their free May month, they will enter the code UOBikeMonth19 and a $5 credit will be added to their monthly student account. The free membership includes one hour of riding each day. Additional time costs 10 cents per minute.
Those new to bike share are invited to learn more and meet other riders at these fun "May is Bike Month" events:
Wednesday Rides on the Willamette–Every Wednesday starting May 8, noon to 1 p.m., weekly guided group rides along the RiverBank path. Depart from the Kesey Square bike share hub.
Smart Cycling Classes–Smart Cycling classes provide hands-on experience on bike safety to build confidence to ride in a comfortable, low-stress community setting.
Lunch and Learn– May 1, noon-1 p.m., at Claim 52 Kitchen, 1203 Willamette St. Presentation and discussion over lunch on using bike share and safe riding techniques.
Social Ride–May 6, from 5:30 p.m. -7:00 pm, at Claim 52 Kitchen. Short hands-on presentations followed by a group ride to practice safe riding techniques on city streets.
Ride with Us to Whiteaker Community Market Opening Day—May 5, from 10:00 a.m. -11:00 am, at the University of Oregon EMU bike share hub. To celebrate the market's opening day, PeaceHealth Rides will lead a special community group ride. The route will include multiple stops to highlight the 20×21 EUG Mural Project, ending at the 4th & Blair bike share hub in time to enjoy a free yoga class starting at 11:00 a.m. at Scobert Park.
---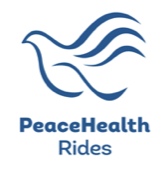 About PeaceHealth Rides: PeaceHealth Rides provides a network of 300 bikes and 39 stations in Eugene for users to pick up and drop off for one-way trips across the city. The system also has one station in Springfield at PeaceHealth Sacred Heart Medical Center at RiverBend. It offers a healthy, convenient and fun way to explore the community. It is a partnership between the city of Eugene, University of Oregon and Social Bicycles by JUMP Bikes, and is sponsored by PeaceHealth. For more information, visit https://www.peacehealthrides.com or follow on Facebook at www.facebook.com/PeaceHealthRides.