Business Boot Camp Delivers the Essentials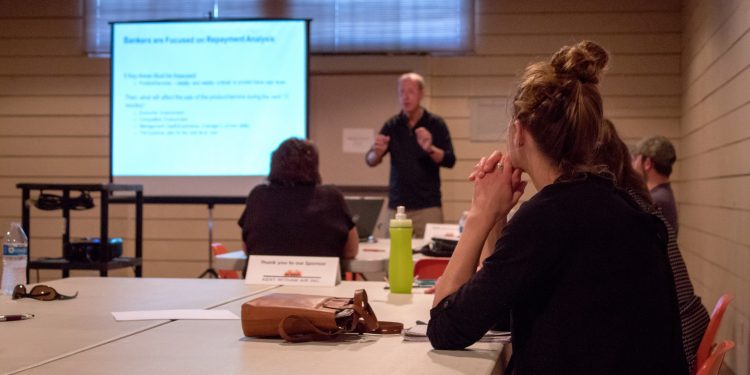 In early 2018, members of Springfield Chamber's Membership Committee were brainstorming ways to improve upon the member experience, provide greater value, and make business better. During this discussion, Chamber Board Member and Committee Chair, Nick Nelson of Keller Williams asked "what about a boot camp?" A few short months later and the first ever Business Boot Camp was in the books.
Springfield Chamber's 2019 Business Boot Camp takes place during the last three weeks of May. The program is delivered in three 90-minute sessions and is designed to provide a basic understanding of business fundamentals for businesses of any shape or size. The topics covered will be Strategic Planning, Finances and Marketing.
Program: Springfield Chamber's Business Boot Camp
Where: Springfield Chamber, 101 South A St, Springfield
When: 3:30 – 5:00 pm
Session 1: Social Media Marketing – May 15
Session 2: Accessing Capital – May 22
Session 3: Strategic Planning – May 29
Fee: FREE for Chamber members, $25 per session for non-members
Session 1: Social Media has become a powerful and (for many) necessary channel for communicating one's brand. Unfortunately, social media doesn't work the same as more traditional marketing spaces. This leaves many business owners struggling to understand the which, why, what & how of it all.
In this session the marketing experts at Ruby Porter Marketing & Design will explore the wide range of social media channels available to you and which strategies might serve you best!
Session 2: One of the most common and frustrating questions for a small business owner is "Where can I get financial support for my business?" Sometimes they may be looking for a short term boost to help them through a new, exciting initiative. Other times they may be looking for a long term financial backstop.
Understanding how, why and when to access capital can be the difference between business success and failure.
Join us for session two of Springfield Chamber's Business Boot Camp – Finance: Accessing Capital. In this session we will hear from several capital experts, describing the many varied forms of capital available and what they look for as funding agents.
Troy Reichenberger, VP/Commercial Relationship Manager, Oregon Pacific Bank – traditional bank lending
Corel Deel, Business Development Officer, Community Lending Works – non-traditional lending
Shane Johnson, Managing Director, Coast to Crest Fund – equity financing
Session 3: Most businesses begin with a simple proposition… "make and sell a product or service," then the complexities of doing business set in. This can be a significant challenge for owners and leaders of small business.
Join us for session three of Springfield Chamber's Business Boot Camp – Strategic Planning.
In this session hear from Gary Smith, Small Business Development Center expert and teacher of the Center's 3-year Small Busines Management program, on best practices for both planning and how to effectively put those plans to work for you.
Springfield Chamber's 2019 Business Boot Camp is open to all business professionals. Information can be found here: https://business.springfield-chamber.org/events/details/business-boot-camp-day-1-strategic-planning-10905
Additional questions can be directed to Robert Killen at 541-746-1651.
[04/22/2019 – This article has been updated to include presenter information and to change the session order.]